Gordon Brush - Capabilities Overview
Cylinder, hand-held, block, ESD, flow-thru, strip or twisted-in-wire - No one offers a wider range of high-quality, American-made brushes. And with over 10,000 brushes to choose from, you'll always find the exact size, material and bristle pattern you need. Need a brush that's a bit smaller or a lot wider? One with a combination of synthetic and natural bristles? No problem. We can modify any of our standard brushes to meet your exact specifications. And if your needs are truly specialized, we can custom create a brush to handle your most demanding application.
All brushes available from Gordon Brush can be made with a variety of quality materials. Bristle material is available in diameter sizes ranging from .0015" (.038mm) to .075" (1.9mm). Core or backing sizes start at .125" (3.0 mm) thick to a virtually unlimited maximum.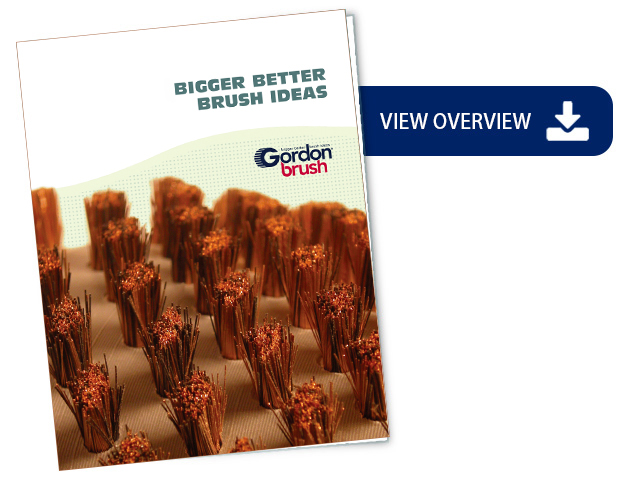 Gordon Brush® offers over 17,000 industrial and specialty brushes - more than any of the other brush manufacturers! For everything from block, hand-held, and cylinder brushes to strip, twisted-in-wire, flow-through, ESD brushes, and more. We have the right brush for your needs. Our state-of-the-art facility provides unlimited manufacturing capabilities and rapid production turnaround. And, with an extensive inventory of more than 1 million industrial brushes in stock, most orders ship the same day!
Brushes for Any Application Looking for specialty brushes for your application? Look no further than Gordon Brush®. We can design a new brush or modify any of our standard industrial brushes to match your unique specifications. Whether you need custom sizes, custom handles, custom bristle combinations, or any other special feature, we manufacture our custom brushes with the same high quality materials and superior craftsmanship that goes into all our industrial brushes.
If A Brush Exists, We Have It We supply industrial brushes in all sizes, all styles, and all materials. With our readily-available inventory of more than 3,500 standard industrial brushes, you're sure to find the perfect brush for your application.
If It Doesn't Exist, We'll Make It We can design and manufacture custom brushes to meet the needs of any application. You'll receive your specialty brush quote within hours, and custom orders are typically manufactured and shipped within 2-4 weeks, far faster than the 6-8 week lead time many brush suppliers require. Gordon Brush® is an ISO 9001:2015 certified brush manufacturer located in the USA, and we follow LEAN manufacturing principles. You can rest assured that your industrial brushes will be of the highest quality.