Custom ESD Cleanroom Brushes
The ESD brush has developed over time to meet the specific needs for the electronics industry as well as industries where static electric buildup or charges are detrimental to the manufacturing process. The ESD brush line has been expanded to formally include cleanroom applications.
Each category of brush is designed based on the elements you are working with, and the corresponding brush characteristics needed to perform the task at hand. Anti static brushes are made from low charging materials. Clean-room brushes are all heat tolerant and therefore autoclavable. See the following pages beginning with About ESD Brushes for detailed information on static electricity, its effects and how brushes can solve static buildup problems.

ESD (Electro Static Discharge) brushes provide manufacturers of electronics and static sensitive products the tools for cleaning and manufacturing that do not create static charges. A variety of brushes have been assembled over the years to meet the variety of needs associated with low charging (anti-static) brushes. Gordon Brush offers Conductive, Static Dissipative, or Insulative Brushes to fit your particular need.

Anti-Static Brushes and Static Electricity
Static charge (electricity) is a fairly simple, but often misunderstood event. Briefly stated, a static charge is generated between materials through friction, pressure or separation of two materials. This process is called the Triboelectric Effect [tribo means rubbing]. A material that inhibits the generation of static charges is classified as low charging (anti-static). Low charging (anti-static) materials used to make these natural bristle brushes include Wood, Hog Bristle, Horse Hair and Goat Hair. These materials can be used in ESD sensitive areas as long as the brush remains in a liquid environment. In a dry environment, only conductive or dissipative materials should be used in ESD safe areas.

ESD & Anti-Static Brush Applications
General applications for any brush are: Applying, Pushing, Removing, Cleaning, Spreading, or acting as a Barrier. Specific uses for Anti-static & ESD Brushes include:
Solder Removal
Dusting/Dirt Removal
Board Prep Board Rework
Lead Trimming Rework
Edge Connector Cleaning
Static Dissipation and Wiping
General Cleaning
The Thunderon Advantage
Why Thunderon® fiber shows better performance compared with other material

1) Thunderon® fiber's conductive layer is a very thin layer incorporated on the outer surface of acrylic fiber which is already very fine in diameter among the available conductive fiber materials. Therefore, Thunderon® fiber is the finest conductive material available to promote Corona discharge.

2) Another factor is the physical property of Thunderon® fiber determined by the host acrylic fiber's characteristics. Compared with other widely used fibers like carbon or stainless fiber, the physical property of the Thunderon® fiber is much softer and has superior bend recovery if the fiber is in contact with charged material. Thus, Thunderon® fiber can be well maintained with original shape of brush compared to carbon fiber and stainless steel. This advantage prolongs the life of the brush.
Corona discharge is a very weak energy discharge from a static charged material to a fine conductive pin-like material near to the charged body. Corona discharge is improved if conductive material has the following characteristics:
Fine diameter material with sharp point;
High number of sharp conductive points;
Each point should be separated from another point thus forming a pitch;
Conductive point should be installed vertically to the surface of charged material.
3) The discharge capacity: In applications like printing or film roll processing, where static will be generated continuously, grounding is a must. When proper grounding is not provided, dissipation will drop significantly.
4) 5.85 x 10² Ω. cm
The numeric value is specific resistance. To convert the surface resistance/10 cm into the volume the method of calculation is as follows:
P =
R x D
-------------------
9 x 105 x L x d
P = Specific Resistance
R = Surface Resistance
D = Denier
L = Measure of Space
d = Specific Gravity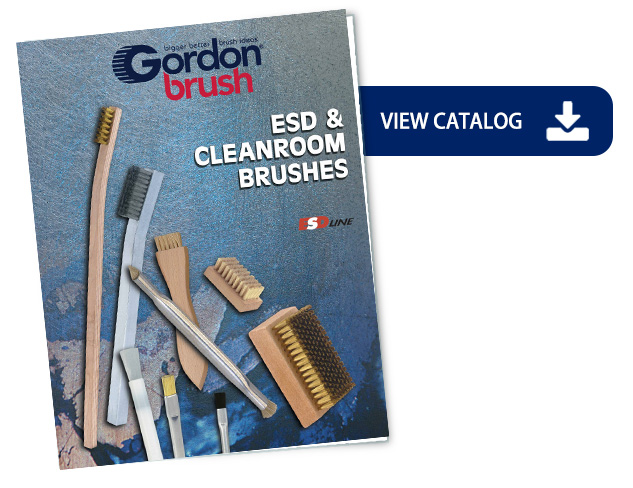 Gordon Brush® offers over 17,000 industrial and specialty brushes - more than any of the other brush manufacturers! For everything from block, hand-held, and cylinder brushes to strip, twisted-in-wire, flow-through, ESD brushes, and more. We have the right brush for your needs. Our state-of-the-art facility provides unlimited manufacturing capabilities and rapid production turnaround. And, with an extensive inventory of more than 1 million industrial brushes in stock, most orders ship the same day!
Brushes for Any Application Looking for specialty brushes for your application? Look no further than Gordon Brush®. We can design a new brush or modify any of our standard industrial brushes to match your unique specifications. Whether you need custom sizes, custom handles, custom bristle combinations, or any other special feature, we manufacture our custom brushes with the same high quality materials and superior craftsmanship that goes into all our industrial brushes.
If A Brush Exists, We Have It We supply industrial brushes in all sizes, all styles, and all materials. With our readily-available inventory of more than 3,500 standard industrial brushes, you're sure to find the perfect brush for your application.
If It Doesn't Exist, We'll Make It We can design and manufacture custom brushes to meet the needs of any application. You'll receive your specialty brush quote within hours, and custom orders are typically manufactured and shipped within 2-4 weeks, far faster than the 6-8 week lead time many brush suppliers require. Gordon Brush® is an ISO 9001:2015 certified brush manufacturer located in the USA, and we follow LEAN manufacturing principles. You can rest assured that your industrial brushes will be of the highest quality.