Custom Industrial Brushes
At Gordon Brush®, specialty and custom industrial brush manufacturing is our forte. With our experienced engineers, advanced CAD software, and extensive manufacturing capabilities, we can turn any custom brush design into the part you desire for your specific application.
All specialty and custom brushes are designed based on the materials, elements, or products you are working with and the corresponding brush characteristics you need to perform the task at hand. Follow the links below to find more information and design sheets that will help you specify and design your custom brush. Or, contact us today to discuss custom brushes for your application. Gordon Brush® is your #1 source for specialty and custom brushes for all applications.
Simply click the "Design Your Brush" buttons below next to the brush type you'd like to order and begin designing your very own custom brush!
Not sure what exact measurements you need for your custom brush? Or would you rather order a brush through a live person over the phone?
No problem, give us a call! 1-800-950-7950 or 1-323-724-7777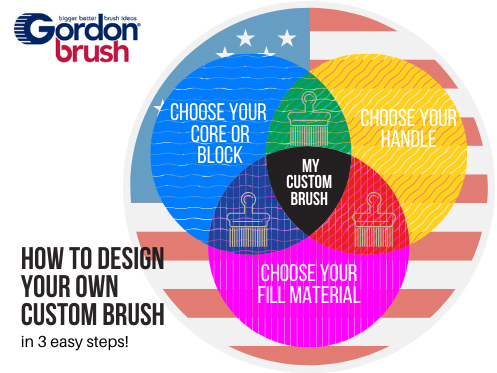 One of the most basic styles available, block brushes encompass any type of bristle inserted into any type of block. Gordon Brush® offers complete customization for block brushes, from block size to bristle material and thickness to hole pattern.



Bore brushes are hand or machine-operated, blind-hole brushes that are designed to clean both the wall and the bottom of a hole. Fill materials are staple-set into core.



Cup brushes are made with a metal backing (channel) strip brush that is formed into a cup shape.


Our custom rotary cylinder brushes are available in a broad range of sizes, with bristle materials and patterns to meet your requirements. Stapled or hand-tied/glued bristle tufts are available, as needed. Specify your bristle pattern, density, and more for a completely custom solution.



Disk Brushes are flat blocks that are disk shaped with the fill material staple-set into the flat surface of the block.



Designed for the application of liquid adhesives, paint, and other fluids, our flow-thru brushes can be customized to your exact specifications. We offer a range of luer-lock, metal hex, and mixing tube options, along with a variety of material choices to meet your needs.


Perhaps the most versatile of all brush styles, handheld brushes can be used for everything from cleaning, scrubbing, and polishing to applying adhesives to weld prep applications. Gordon Brush®'s handheld brushes can be completely customized to your application and performance requirements.



Inward, outward and partial disk brushes are made from a metal backing (channel) strip brush that is formed into a disk or circle shape.



Inward wound coil brushes are made from a metal backing (channel) strip brush that is formed into a coil or spiral shape.



Outward wound coil brushes are made from a metal backing (channel) strip brush that is formed into a coil or spiral shape. It can be mounted to a shaft or steel tube core.



Working with specialized natural and synthetic materials, and utilizing proven manufacturing techniques, we can provide pencil and applicator custom brushes for your unique application. Customize the brush materials, bristle pattern, and more to create the perfect pencil or applicator brush.



Also known as metal channel back brushes, our strip brushes are available in six versatile configurations. Fill material, trim lengths, channels sizes, and more can be tailored to your specifications, giving you the perfect custom brushes for your application—whatever it may be.



Often called spiral brushes, tube brushes, flue brushes, bottle brushes, pipe brushes, or boiler brushes, twisted-in wire brushes are available in a variety of configurations and with galvanized steel, stainless steel, or aluminum bristles. Design your custom brush to match your unique requirements!



Custom Brush Design Experience
Gordon Brush® has been manufacturing specialty and custom industrial brushes since 1855. Gordon Brush® currently has a brush on the moon, a brush on JPL's Cassini spacecraft, and a brush that launched on JPL/NASA's Mars Volatiles and Climate Surveyor in January, 1999.

Down on Earth, Gordon Brush® can manufacture custom brushes that match your unique specifications. We have a team of expert design engineers who can help you select the brush materials most appropriate for your application, and provide computerized modeling of your custom brush design. This allows for the rapid creation of computer based prototypes, if needed, and for fast production of your product. Our custom brush design engineers have extensive experience in all industries and applications, and will work with you to develop custom brushes that suit your unique needs.

Custom Brush Applications
General applications for a custom industrial brush include applying, pushing, removing, cleaning, spreading, or providing a barrier. The possibilities are literally limitless! Common applications for our specialty and custom brushes include:
General Cleaning
OEM Machine Parts
Replacement Machine Brushes
Debarking Trees
Paint Striping
Bent Tube Cleaning
Articulated Drain Cleaning
CNC OD/ID Thread Deburring
Micro Tubular Swabs
Spanish Roofing Tile Cleaner
Static Control
Custom Brushes Sizes and Styles
The size and style of your custom made industrial brush will depend almost completely on your application. There are almost no limits to our custom brush manufacturing capabilities. We use state-of-the-art CNC machinery, and have the capacity to manufacture the industry's widest variety of sizes. Talk to us about your application and we will work with you to deliver the custom brushes you need.


Contact Us for Specialty & Custom Brushes
If you know the specifications of your custom brushes, please complete a Custom Brush Design sheet through one of the links above. We will get back to you within 24 hours with a complimentary price quote. Or, contact Gordon Brush® to discuss a custom brush design for your application.