Brush Fill Material Descriptions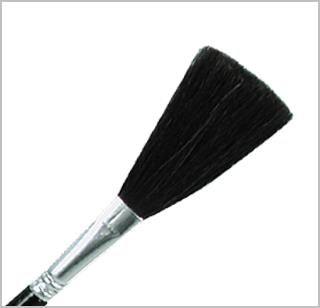 CAMEL HAIR: Camel Hair brushes are not made from camel hair. Rather, it is a generic term used for lower priced, soft hair such as pony, goat, squirrel, sheep, bear or a mix of several different hairs. It's commonly used for lower quality, less expensive artist brushes.
GOAT HAIR: A very fine, soft hair with limited elasticity. It has a natural kink that cannot be straightened. Typically used for short, soft bristle brushes like cosmetic brushes and electronics industry brushes. Available at Gordon Brush® in natural black and white for most applications. Goat hair can be dyed if required.
HOG BRISTLE: Relatively scarce and expensive. This material has characteristics that set it apart as the best natural filling material for a wide variety of bristle brushes. Each strand of bristle has a natural taper from the butt or flesh end to the tip, giving it resilience not found in other hairs. In addition, the tip end of each bristle is naturally split into two or more branches called the flag. Hog bristle has a slightly stiff to very stiff texture and is off white or black in color and excellent for ESD brush applications. Chung king hog bristle is the stiffest hog bristle available. It also has excellent durability and water resistance.
HORSE HAIR: Horse hair is a medium to high cost material. Tail hair is stiffer than mane hair. It's soft to slightly stiff texture gives a scratch-free dry cleaning and has very good durability. Horse hair is highly absorbent due to the many tapered scales along its length which allow it to carry liquids (water, ink, paint) very well. Not resistant to acids or alkalis, it is used for buffing, cleaning, dusting, and finishing in a variety of bristle brush styles: floor sweeps, shoeshine brushes, tin handle acid brushes, counter dusters, and window brushes. It is also excellent for ESD brush applications because it does not hold a static charge. Its heat distortion temperature is 370º F.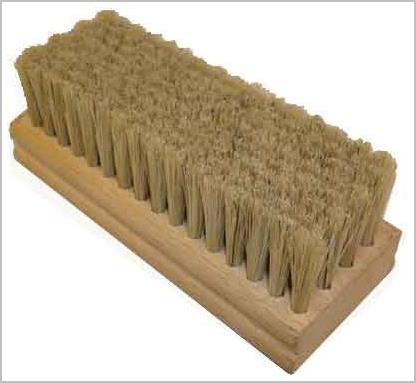 OX HAIR: In proportion to its diameter, ox hair is perhaps the stiffest of all soft hairs, is very strong and resilient. Ox hair comes from the ears of oxen and has a springiness or snap similar to sable hair. The tips however, are quite blunt when compared to sable so fine tip brushes are not possible. Ox hair is particularly sought after in artist or detail brushes for fine lettering, striping and marking brushes.
RED SABLE: The hair of the red sable is the most valuable of all soft hairs. It is very fine, has strong, sharp points and great elasticity and carries color well. Red sable hair makes the finest artists' brushes, being particularly suited for use with oil paints and heavy-bodied sign-writing materials and is best for fine lettering. Pure red sable hair has a perpetual taper, creating the finest point possible on a bristle brush.
SQUIRREL: This hair is divided into blue squirrel and Canadian squirrel. A very fine hair used for applying thin lacquers, Japan colors, light-bodied varnishes, and for general artwork, lettering and striping, as well as cosmetic brushes and forensic brushes. Blue squirrel hair is exceptionally soft and extremely expensive.
Shop for animal hair & other natural fill brushes >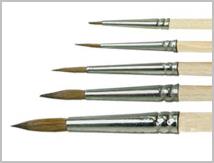 BASSINE: A select grade of Palmyra fiber, stiffer, more durable and more resistant to water. A very dark brown in color. Its coarseness and good water resistance make it ideal for stiff scrub brushes and is widely used in conveyor cleaning brushes.
PALMETTO: Produced from the Florida Palmetto Palm. It is coarse, reddish in color and oil treated for wet applications. Palmetto is a quality bristle brush fiber, widely used in deck and can scrubs, garage sweeps, whisk brooms, etc.
PALMYRA: A cinnamon colored fiber produced from the base of the leaf stalks of the India Palmyra palm. It has a medium stiff to stiff texture and is light to dark brown in color. It is finer, less stiff, more brittle, and of lower quality than bassine. Used in garage floor brushes, fender washing brushes, deck brushes, and scrub brushes.
TAMPICO: Produced in Mexico from the stalk of the Agave plant. Has a soft to medium texture and is off white in color. It is often dyed and blended to give the desired effects to a bristle brush. It is heat, alkali, and acid resistant. The porous fibers absorb water and work wet or dry. More aggressive than nylon or horsehair. Used for removing surface particles and tool marks, dusting, wet scrubbing, cleaning, and spreading liquids. Excellent for removing light feather burrs and for light edge blending when used with a compound. Heat distortion temperature is 283º F.
UNION FIBER: A mixture of two or more materials – usually tampico and palmyra. It has a medium stiff texture.
Shop for vegetable fiber & other natural fill brushes >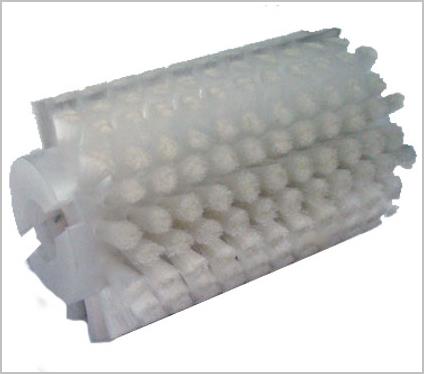 CARBON FIBER: A very fine [Ø 0.000283] fiber of 95% pure carbon. Fiber has a tensile strength of 575 ksi, a tensile modulus of 35 msi, and an electrical resistivity of 0.00055 Ohms-in. Popular in light touch to non-contact grounding brushes due to its high conductivity. Not recommended for uses with high flexural requirements since carbon fiber has low flex fatigue resistance and can break off rather easily.
HIGH DENSITY POLYETHYLENE (HDPE): A thermoplastic polymer made from petroleum. It is one of the most versatile plastic materials around. HDPE plastic is used in a wide variety of applications, including plastic bottles, milk jugs, shampoo bottles, bleach bottles, cutting boards, and piping. It is known for its outstanding tensile strength and large strength-to-density ratio. HDPE plastic is high-impact resistance and has a high melting point.
NYLON - ABRASIVE: A long wearing abrasive nylon filament impregnated with aluminum oxide or silicon carbide particles.
Aluminum Oxide is more impact resistant compared to silicon carbide and is less likely to fracture and is preferred for finishing soft metals or other materials where a smooth finish is required. Aluminum oxide is generally available from 600 to 80 grit and diameter ranges from 0.012" to 0.040".
Silicon Carbide is harder, sharper and more aggressive than aluminum oxide and is preferred for finishing ferrous metals. Silicon carbide is generally available in 500 to 46 grit and diameter ranges from 0.018" to 0.080".
NYLON - CONDUCTIVE: A type 6.6 Nylon with a 1 micron thick electrically conductive carbon coating suffused onto the outer surface, often used for anti-static bristle brush applications where a non-abrasive conductive fiber is needed. Available in three standard diameters 0.01, 0.016, and 0.02 with other diameters available through special order. It has an average electrical resistance: 7.8 x10³ Ω/cm
NYLON - HT: High Temp Nylon is type 6.6 Nylon with an additive that allows the fiber to resist oxidation at elevated temperatures. Standard Nylons have a high heat deflection temperature (softening temp) but are prone to oxidation embrittlement with extended exposures to high temperatures. Nylon HT is far less prone to heat oxidation and remains flexible much longer than standard Nylons. It is recommended for use in high temperature, high alkaline, high wear environments. It has a maximum short-term use temperature of 350°F (176°C) and a maximum continuous use temperature of 302°C (150°C).
NYLON - STATIC DISSIPATIVE (aka Antistatic Nylon or ESD): A type 6.12 Nylon with a surface resistivity of 1x10e9. Because the conductive element is not a coating but is distributed throughout the strand, it does not shed or slough making rendering it clean room compatible. It is an excellent fiber to use for cleaning sensitive electronic circuitry as well as in explosive environments because it is non-sparking, it inhibits the generation of static charges, and can dissipate static charges on surfaces in a controlled manner.
NYLON - TYPE 6: Provides a good durable Nylon with good bend recovery, temperature stability and abrasion resistance at a low cost. It has a maximum short-term use temperature of 250°F (121°C) and a maximum continuous use temperature of 200°F (93°C).
NYLON - TYPE 6.6: Top quality Nylon, medium-priced with higher stiffness, bend recovery, and abrasion resistance than type 6. It has the highest heat distortion temperature of the three Nylons. It has a maximum short-term use temperature of 356°F (180°C) and a maximum continuous use temperature of 248°F (120°C).
NYLON - TYPE 6.12: Superior type Nylon used in applications calling for low water absorption. It has excellent bend recovery, and abrasion resistance. This is the highest-grade nylon and it resists rot and mildew and discourages bacterial growth. Type 6.12 Nylon bristles are FDA approved and widely used for general purposes and in medical brushes, pharmaceutical brushes and food service brushes. It has a maximum short-term use temperature of 250°F (121°C) and a maximum continuous use temperature of 200°F (93°C).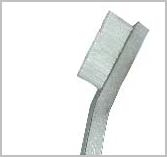 PEEK: A durable thermoplastic that offers excellent chemical resistance, does not absorb moisture and is ideal for high heat and corrosive environments. PEEK provides excellent flexural and tensile strength and will work in continuous temperatures up to 480º F (250°C). It is a great alternative to Nylon for use in extreme chemical and heat applications.
POLYESTER PBT: A polymer that replaces horse hair. Its' features of toughness and high temperature resistance resemble those of Nylon®, but Polyester is noted for its ability to recover without whip or slapping action, and it will not mat. Polyester has excellent resistance to all acids, alkalis, alcohols, gasoline, benzene and most cleaning solvents. It is a medium-priced filament that resists mildew, bacteria and fungus growth. It has a maximum short-term use temperature of 320°F (160°C) and a maximum continuous use temperature of 285°F (140°C).
POLYETHYLENE: a soft durable material suitable for applications where abrasion is to be avoided. These flexible bristles are very efficient for thorough washing and polishing of delicate fruits and vegetables. Polyethylene is ideal for soft, non-scratch wiping instead of a brushing action.
POLYPROPYLENE: A versatile, stiff, low cost filament used for a wide variety of applications. Polypropylene will not absorb moisture or odors and sheds dirt easily. It has excellent wet stiffness, abrasive tip cleaning action, is non-brittle, and is inert to most solvents, oil, acids, and chemicals. It is, in fact, one of the most chemically resistant synthetic filament materials available. It has a maximum short-term use temperature of 225°F (107°C) and a maximum continuous use temperature of 175°F (79°C).
POLYSTYRENE: This material has replaced natural bristles for use where chemical resistance is needed. Its stiff aggressive properties make it ideal for utility brushes, coffee urn brushes, deck scrub brushes, floor and garage brushes. Polystyrene bristles wear longer, perform better, and yet carry a comparable price tag to natural bristles.
PTFE: A Polymer commonly know by the brand name of Teflon®. This material is inert to most chemicals, resistant to strong mineral and oxidizing acids, along with alcohols, ketones, ethers, amines, esters, chlorinated compounds and common cleaning solvents. PTFE is very soft and has has relatively low tensile strength but does maintain excellent property resilience up to 500º F (260°C) continuous.
PVC: PolyVinylChloride is an economical material with a reasonable flex life, low friction resistance and no loss of stiffness in water.
THUNDERON®: An extremely soft acrylic fiber that has been chemically bonded with a layer of copper sulfide. This outer layer becomes a part of the host fiber itself, which precludes the 'flaking' problem experienced by other conductive fibers. The fiber diameter is available in two diameters, 0.07 mm (0.0028") and 0.11 mm (0.0043"). Its conductive layer is a super thin 300-1,000 (angstroms). Thunderon® has an electrical specific resistance of 10¹ - 10²Ω/cm.
Shop for Synthetic Fill Brushes >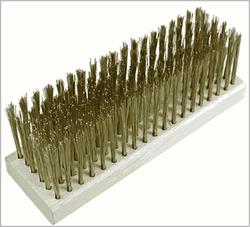 ALUMINUM: Is soft and non-corrosive. It has excellent conductivity but bends easily. Aluminum is recommended for special applications only.
BRASS: 260 alloys of brass normally contain about 70% copper and 30% Zinc. This bristle wire is the softest metal fiber available. It is available either straight or crimped. It is used for light to medium cleaning and luster finishing. It has a maximum use temperature of 500°F (260°C).
CARBON STEEL: Is available both tempered and non-tempered as well as high carbon and low carbon versions, in a variety of sizes, straight or crimped. Carbon steel is a widely used metal fill material. It has excellent cutting ability and fatigue resistance for long brush life at a low cost. It is used for general-purpose cleaning, rust removal, deburring, edge blending, and roughing for adhesion. Maximum use temperature of 300°F (148°C).
NICKEL SILVER: This alloy nominally contains 65% copper and 17% nickel. The alloy's electrical conductivity is about 6% that of copper. Because this alloy is very resistant to most chemicals, it is used in staple wires that hold the bristles in the block or handle. Nickel silver is non-magnetic and stiffer and harder than brass or phosphor bronze.
PHOSPHOR BRONZE: C51000, phosphor bronze is made up of approx. 92% copper, 4.7% tin, 2% phosphorous, 1.3% zinc and trace amounts of lead. It is non-sparking and about 1/5 as conductive as copper, stronger than brass [F73 Rockwell] and lasts longer. This material resists corrosion and fatigue due to flexing. It has a maximum use temperature of 500°F (260°C).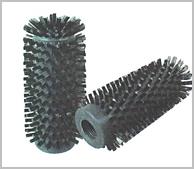 STAINLESS STEEL: Type 302/304/316 stainless steel for wet and no rust applications in a variety of diameters and comes either straight or crimped. It is highly corrosion and heat resistant and unlike carbon steel, stainless steel does not leave after-rust deposits when used on stainless steel, aluminum, and other high-strength alloys. However, once used on carbon steel it cannot be used on stainless steel or rusting can occur. This material is used in corrosive environments for general purpose cleaning, rust removal, deburring, edge blending, and roughing for adhesion. Stainless Steel is FDA approved and widely used in medical brushes, pharmaceutical brushes and food service brushes. It has a maximum use temperature of 800°F (426°C). Note: The austenitic 302/304/316 steel used in our brushes is cold worked [drawn] to achieve the desired tensile strength. This results in the stainless steel becoming somewhat magnetic. This magnetism is normal and is not an indication that the wire is not stainless steel.
TITANIUM (Ti): Commercially pure (CP) grade 1 or 2. Titanium is lightweight, being 40% lighter than stainless steel. Titanium has comparable strength and better bend recovery (returns to original position after bending) and has excellent corrosion resistance to water and chemicals due to a thin layer of titanium dioxide (TiO2) that forms on its surface. Titanium is non-magnetic and biocompatible (non-toxic and non-allergenic). Due to its high cost to process, titanium wire is usually reserved for uses in the aerospace and medical fields for cleaning or deburring other titanium parts. It has a maximum use temperature of 932°F (500°C).
OTHER WIRE MATERIAL: Other wire materials are available but may require special order and minimums such as: Inconel 600, Monel, Beryllium Copper, Copper Nickel, Nickel 200, Platinum and Tungsten.


Contact Gordon Brush > today to receive a custom quote or to learn more how our products can fit your applications or solve a problem for you!
Teflon® is a Registered Trademark of The Chemours Co. and Thunderon® is a Registered Trademark of StaticFaction, LLC